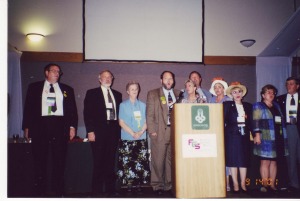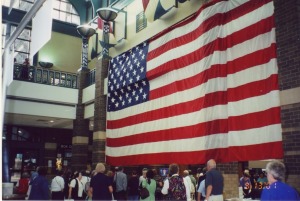 I visited Ground Zero in September 2004 and felt a special connection because of a large group of people who banded together to mourn and to celebrate life and the importance of family. We learned how quickly families can be changed forever.
That banding together was at the Federation of Genealogical Societies Conference in the Quad Cities of Illinois and Iowa. The local host societies, the Scott County Genealogical Society and the Blackhawk Genealogical Society, along with genealogists from all over the U.S. and some from other countries, all banded together that week. We mourned, remembered, cried, hugged, laughed, wondered, and most of all learned that family comes in many forms.
At that conference and in the 8 years since I have learned how many of my friends have connections to 9/11 in some very sad and some even lucky ways. Just this past week at the FGS Conference in Little Rock there were conversations about the Quad Cities Conference. We will never forget on so many levels.
A couple years ago I did a post on the 9/11 week. You can read it here.

© 2009 – 2014, Paula Stuart-Warren. All rights reserved.
Please follow and like us: