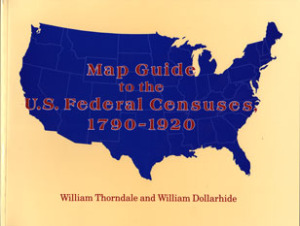 Over at GenealogyBlog.com, Leland Meitzler announced that Dollarhide and Thorndale's Map Guide to the U.S. Federal Censuses 1790-1820 is back in print!
As Leland states, "The county has always been used as the basic Federal census unit. Genealogical research in the censsus, therefore, begins with identifying the correct county jurisdictions. This work (one of the top-five best selling genealogy books) shows all U.S. county boundaries from 1790 to 1920. On each of the nearly 400 maps the old county lines are superimposed over the modern ones to highlight the boundary changes at ten-year intervals."
And that's not all! For more details and ordering info, click here. This is a guidebook that belongs on every genealogist's book shelf. You might even print out the announcement and hint to your family that it would make a perfect Christmas gift. Don't just look at the pictures (maps), be sure to read all the prefatory info and the material on each page. You will be amazed at all this guide offers.
© 2009 – 2014, Paula Stuart-Warren. All rights reserved.
Please follow and like us: