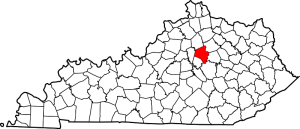 Amy Dunn, a professional genealogist from Owensboro, Kentucky, posted a link to a news article about this on a discussion list for members of the Association of Professional Genealogists. A number of Fayette County, Kentucky records have surfaced. It's one of those things that reminds us to never give up, never say we have looked at everything, and to keep checking back in catalogs and other finding aids. Once again, it shows that it isn't all online.
The Lexington Herald-Leader's website Kentucky.com tells about some "Land, census and marriage records from the late 1700s to the early 1900s have recently resurfaced that could provide a treasure trove of information for genealogists and others." Lexington is the county seat of Fayette County.
The article also tells that the material found includes "property titles, essentially — from 1779 through 1780, when Kentucky was still part of Virginia.Another record book recovered by Fayette County clerks, the "Land Entry Book," contains similar information from 1783 to 1784. Kentucky became a state in 1792.'
Read the article for more details. I wish I needed Fayette County for family research!
© 2009 – 2014, Paula Stuart-Warren. All rights reserved.
Please follow and like us: