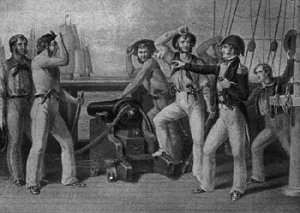 State archives and historical societies as well as the U.S. National Archives and Records Administration house many older records of military service, bounty land awards, and pension records. These often hold a wealth of family details including birthplaces, marriage date and place, places of residence, and many other important pieces of information. In a future posting I will cover some of the wonderful military materials found at the Minnesota Historical Society.
In today's Genealogy Gems (No. 75, May 31, 2010, Allen County Public Library, Fort Wayne, Indiana) Curt Witcher talks about preserving such records. Genealogy Gems is a free monthly ezine to which anyone may subscribe. Curt reminded us to "actively engage in preserving historical military records by contributing to preservation and publication efforts. Many local and state archives around the country are digitizing military records to make them more accessible to researchers. Are you able to support any of those initiatives where you live?"
He then tells about the effort to digitize the War of 1812 pension files. "The National Archives and Records Administration (NARA) has asked the Federation of Genealogical Societies (FGS) to coordinate raising the funds necessary to digitize all the War of 1812 pension files. NARA indicates that the War of 1812 pension files are among the most requested record groups by researchers, with more than three thousand files being requested each year. The files are ready for immediate digital imaging. The task that remains before us is to raise the $3.7 million necessary to scan the more than 7.2 million images. That is certainly a formidable challenge. But what a worthy goal–to make this information freely available to historians, genealogists, military enthusiasts, students, and interested others. Digitizing more than seven million images is a tall order, but remember so was defending a new country struggling to ensure that its independent democracy would prevail. Visit the FGS "Preserve the Pensions!" website at www.FGS.org/1812 to learn more about the project, see sample pension files, and explore the many options for giving. Are you able to support this important activity?"
I serve with Curt on the Board of Directors of the Federation of Genealogical Societies and also encourage you to participate in this preservation effort. I have already contributed and hope you will, too. Don't have War of 1812 ancestry? Neither do I, but feel it important to preserve these fantastic records. Stay tuned to this blog and the FGS Conference News Blog for details on a special event related to this effort. It will take place on Friday evening, 20 August, at the FGS Conference in Knoxville, Tennessee.
© 2010 – 2014, Paula Stuart-Warren. All rights reserved.
Please follow and like us: