The 2010 edition of the annual four day genealogy conference of the Federation of Genealogical Societies begins in just 16 days in Knoxville, Tennessee. There are sessions for family historians of all levels of knowledge and with ancestors from just about anywhere. You might even find a distant cousin among the many conference registrants.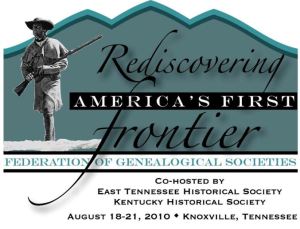 Online Registration closes at midnight August 8th. Walk-in registrations will be welcome at the conference.
The Conference Syllabus is online for registered attendees to print handouts for sessions in advance of the conference.Click here for instructions.

Some printed syllabus copies will be available at the conference but the supply is limited. Copies are $30. All registered attendees will receive a syllabus CD.

There will be a few tickets for luncheons available for sale at the Registration Desk. Tickets for the Thursday evening banquet at the Museum of Appalachia are close to sold out. Order your tickets very soon!
The FGS Conference News Blog has had many news updates in the last two weeks.
© 2010 – 2014, Paula Stuart-Warren. All rights reserved.
Please follow and like us: