My plan for this December is to be a better participant in the Geneabloggers Advent Calendar of Christmas Memories. This will be a way for me to tell my children and grandchildren about Christmas in my youth and to remind them about some wonderful Christmases in their past.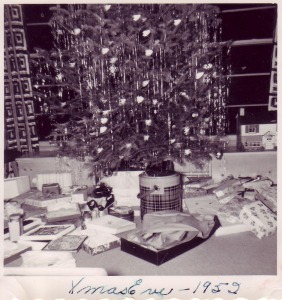 I grew up in a rambler on Bowdoin Street in St. Paul that had three huge side-by-side living room windows. This was the perfect place for a tree. And for my parents, especially my Mom, that had to be the perfect tree. I think Dad was pretty particular, too but she was more so. It was always the coldest day of December when we would venture to the tree lot. I remember going to one at the corner of Snelling and St. Clair at the edge of the Macalester College campus for many years. We looked and looked till we found the best tree (short needles of course) and if there were a few spots that needed a branch or two, we purchased extra branches. My Dad would then drill holes for these "additions."
The tree would be positioned in front of the windows, Dad would do the lights, and then we three girls would get to hang the ornament. That was always so much fun to see these wonders we hadn't seen in a year. Mom and Dad would make some adjustments if we didn't have them spaced too well! Then came the tinsel. Tons of tinsel. BUT each piece had to be run through our fingers to make sure it was perfectly straight, not twisted or tangled. The result was a tree that was wondrous. We would turn off the room lights and sit on the couch and beam at our work. The background was all the snow in our large front yard.
© 2010 – 2014, Paula Stuart-Warren. All rights reserved.
Please follow and like us: