The Century Farms program in Minnesota began 35 years ago in 1976 and a list of them is now online. Depending upon which website or news article you look at, it's of 8,000-9,000 farms that have been recognized as a Century Farm since the program began.The application forms through the 2009 designees are at the Minnesota Historical Society in St. Paul.
A farm must meet three requirements to be designated a Century Farm and complete the application:
be at least 100 years old according to authentic land records [Yep, the ones genealogists love to use such as deeds, land patent, abstract of title.]
have been in continuous family ownership for at least 100 years (continuous residence on the farm is not required). [Family means cousins, aunts, uncles, grandparents, grandchildren.]
the size must be at least 50 acres.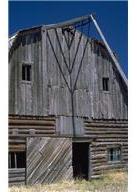 The Sesquicentennial Farms program honors families that have "owned their farms for at least 150 years, are at least 50 acres in size and are currently involved in agricultural production." This program began in 2009.
Back in December of 2009, I blogged more about Century Farms, website, and publications. Click here to read that post.
Click here to see the Farm Bureau's lists of Century and Sesquicentennial farms in Minnesota. A search may be done by name or county.
© 2011 – 2014, Paula Stuart-Warren. All rights reserved.
Please follow and like us: