Back in 2007 I wrote a long blog post about my memories from 9/11. It was a Tuesday, just like today. I can still see that flag hanging in the convention center and it still gives me the chills. It was a wonderful group of genealogists at the Federation of Genealogical Societies conference in the Quad Cities. A special bond was formed.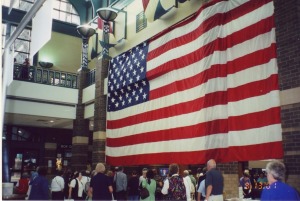 http://paulastuartwarren.blogspot.com/2007/09/911-remembered.html
© 2012 – 2014, Paula Stuart-Warren. All rights reserved.
Please follow and like us: