One of my favorite lectures to present during seminars is "Your Anytime Library: Success in the Virtual Stacks." It's about finding digitized records, books, pamphlets, and periodicals while lounging in your own home. So much has been placed online that we get excited about it. The number of websites with such material is growing by the day as are the individual collections already online. Each time I present it, the handout needs to be extensively updated to keep up with all the changes. As I say in my preface to the lecture: "Peruse books at any hour without starting the car or breaking into the library? Add newspapers, documents, family trees, pension records, periodicals, and more to the accessible items and you might be housebound for days (months?)."
I periodically check these sites for my family surnames and localities to see if anything new has been added. Tonight I spent extra time on one specific person, my Great Granduncle James Edward Stuart (1842-1931). I have posted about him before. At times he seems to be everywhere online. He was a Brigadier General, served on active duty in three wars, and was Chief Inspector for the Postal Service in Chicago. I have stories about him that don't appear online and I may not share them for a long time!
Tonight I found a connection that would have thrilled my late father. Ol' Jim Stuart was part of the ceremony when Soldier Field in Chicago received its current name. Soldier Field is the home of the Chicago Bears. It seems particularly fitting to find this bit of history in a week when the Chicago Bears will be playing the Minnesota Vikings. Alas, they are playing here at the Metrodome and not at Soldier Field. On a future trip to Chicago, I just might take a tour of Soldier Field now that I have a connection and know more about its name.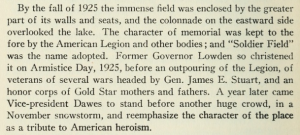 I found this on Hathitrust.org and the digitized and searchable book is Chicago's Great Century, 1833-1933, by Henry Justin Smith. (page 176, Chicago: Consolidated Publishers, 1933).
© 2013 – 2014, Paula Stuart-Warren. All rights reserved.
Please follow and like us: