Join me for "Railroad Records and Railroad History: Methods for Tracking" this Thursday, November 16, 2024 at 6:00 p.m. CT. It will be online and in-person in Muskogee.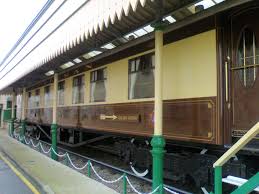 I will be online for this presentation sponsored by Oklahoma's Muskogee County Genealogical Society and the Tulsa Genealogical Society. Both are great groups and deserve your support for sponsoring this webinar that they have graciously opened to non-members that evening. Members of the societies will be able to rewatch the webinar for two weeks after the 16th.
My description of the presentation:
Did great-grandpa or another family member traverse this nation as he worked for the railroad? For which railroad did he work? Where did it run? Are there railroad records that may give us personal details? Visuals and references demonstrate the wealth of historical materials available all across the U.S. and with some specifics for Oklahoma and surrounding states. The railroads helped to develop places and other businesses. When this lecture is over you will know where to turn to find out more about the railroad, its records, and where to find them.
More details and to register for this event: https://www.muskogeecountygenealogicalsociety.org/


© 2023, Paula Stuart-Warren. All rights reserved.
Please follow and like us: