The 2010 edition of the Salt Lake Institute of Genealogy ended last evening with a great banquet and a delightful presentation by Peggy and George Ryskamp. I have known them for many years and knew we were in for a treat as they told some poignant and interesting stories about their research travels to Spain and the Netherlands. The pictures were wonderful.
Several awards were presented by the Utah Genealogical Association. I don't remember the complete list but do know that Kory Meyerink, AG, was honored for founding SLIG fifteen years ago. Craig Roberts Scott, CG, was presented the Silver Platter award for his dedication to publishing in the field of genealogy. Both of these awards are well-deserved. I will report on others once UGA does a press release with all the details. Elizabeth Dutton was honored for attending all fifteen years of SLIG. Thomas McGill was thanked for his able service as 2010 SLIG Director.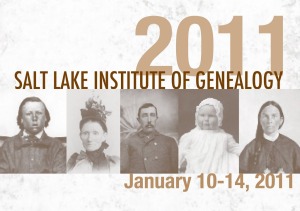 Pat Richley-Erickson (Dear Myrtle) is the SLIG Director for 2011. Her assistant is Warren Bittner and they are excited about taking over the reins.The 2011 SLIG will have eleven courses. I will again be coordinating the intermediate level American Records course. It will focus on localities for 2011and is great lead-in to other courses as it provides a solid knowledge foundation . Check back for the full titles and the coordinators of the other ten courses. I will also let you know when the SLIG registration and other info is online.
© 2010 – 2014, Paula Stuart-Warren. All rights reserved.
Please follow and like us: