It was the late 1990s at a genealogy conference in some city. After so many years of attending them, it's tough to remember which one I was at, but I do remember meeting this Cyndi who was in charge of Cyndi's List.
I had owned a computer for at least a dozen years at that point, including my first laptop. I had heard about Cyndi's List and checked it out, but didn't know the woman behind it. I am happy to say that changed. Then we talked at several more conferences. I remember when she got to meet her teenage idol at a conference. That was Donny Osmond. He was more excited to meet her, the Cyndi of Cyndi's List! I have met many of her family members and she has met my daughter. Her son accompanied her to many genealogy events as a young boy. Today he is a tall man in college.
I do use Cyndi's List to find websites of interest and I send her link updates and try to find links she doesn't have. As the website's home page states, she has added almost 331,000 links. That figure is somewhat off, for most of those links include many other links. She doesn't toot her own horn enough.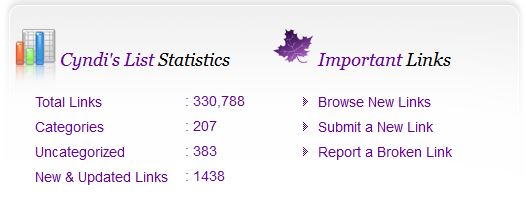 Today, March 4th is the start of the 21st year of Cyndi's List. I appreciate all that she has done to keep it going, including many hours each day updating links that go bad. I know it's not cheap to maintain all that is needed for it to stay online. I know it cost her a bundle to update all the technology in recent years. She does this just for us. Read more about Cyndi and the way Cyndi's List began under the "About Cyndi" tab on her home page. Please let her know how much we appreciate what she does for us!
She has no idea that I am writing this. I count her a good friend. She stepped up to the plate and was a great friend when I was in the midst of a personal crisis. She let me spoil her Boston Terriers. She is a friend to many colleagues. Thank you, Cyndi for helping my research
Now, I shall go find some new links to submit to her.
© 2016, Paula Stuart-Warren. All rights reserved.
Please follow and like us: