It has finally happened! Saint Paul city directories have been digitized by the Saint Paul Public Library with the aid of a Heritage Preservation Grant. The years digitized are 1846-1922. Why not later years? The answer is simple, the later years are still under copyright.
Last week, I tried to find an easy way to access these on the library's website, but that hasn't worked. A newsletter from the Minnesota Historical Society today helped me locate a link.
I like that we have a collection of these in one place and for free! There are other online collections that have some or all of the directories. No other website that I know about has this comprehensive collection for free.
Checking these city directories needs to be done from cover to cover to see all the information. Among the details to be found in the front and back of city directories are: city government departments and officials, history of the city, churches, schools, railroads, organizations, associations, institutions, hospitals, business directory by type, late additions and corrections, and a description of each street location.
One of my favorite Saint Paul city directories is the Edwards' Saint Paul Census Report and City Directory, 1873. Keep in mind that the bulk of city directory information is gathered in the year preceding publication. Early directories were compiled from information obtained from directory personnel going door-to-door.
Look at this 1873 directory page and you will see why I love it. It was published in-between the federal census of 1870 and the Minnesota state census of 1875.
For each individual listing, the "w" followed by a number tells in which ward of the city the household resided. This is followed by the number of males and females and the total number of people in the household. That in turn is followed by the place of birth (state or country) if not in Minnesota. Wives names were not listed by name until 1929 and adult children in the household were listed by name beginning in 1933.  These dates vary in other cities.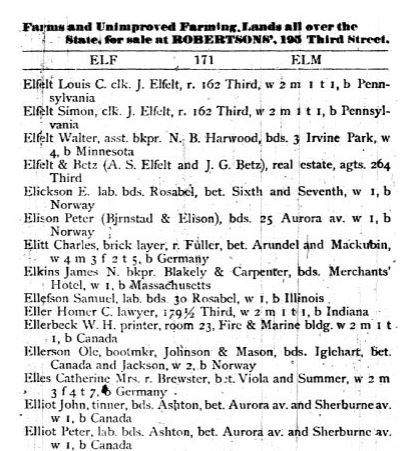 Are your fingers itching to see this and the other directories? Click here: goo.gl/4ciDZR
© 2017, Paula Stuart-Warren. All rights reserved.
Please follow and like us: