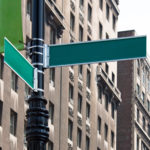 A continuing education class that is open to anyone at the University of Wisconsin-La Crosse is inviting people to help complete an award-winning oral history project that accommodates self-guided tours. The class will add stories to the 50 already recorded. How do you access these self-guided history tours? At orange street signs in downtown La Crosse, simply call a toll-free number and hear the recording that matches the area around the  spot where you stand! What an easy way to learn history.
For details on the upcoming January class and more on the story, visit the La Crosse Tribune.
© 2017, Paula Stuart-Warren. All rights reserved.
Please follow and like us: