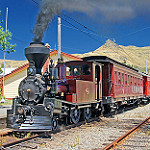 I love my Google News alerts that share news relate to records, repositories, and family history. In my various presentations on railroad records and family history, one repository I usually include in the discussion is in Ithaca, New York. Cornell University's Kheel Center for Labor-Management Documentation & Archives has an amazing collection of records from railroads, railroad worker labor unions, photographs, books, articles, payroll records, and correspondence. This is on my bucket list of places at which I want to research in person. It's not just a New York related collection.
The 2 May 2018 edition of the Cornell Chronicle shares news about additional organizing of the collection. From the article:
"A 2015 grant from the National Historical Publications and Records Commission funded the work, which organized 63 of the more than 200 railroad collections held by the Kheel Center.
Comprising 380 boxes of records, photographs, correspondence and more, the 63 newly processed railroad collections support research in the ILR School and beyond. They document the often tense relationship between railroad carriers and the groups representing their workers, and range roughly from the 18th century – when horse-drawn carts traversed the tracks and whale oil lit the headlamps on steam engines – to the 2000s."
Read the article here and learn more about some of the collection here.
© 2018, Paula Stuart-Warren. All rights reserved.
Please follow and like us: