I have been teaching at genealogical institutes since the early 1990s. These have included  in-person courses in Illinois, Pennsylvania, Texas, and Utah. I have presented in-person seminars in many states. In recent years, I have been presenting online webinars. This summer has included being part of 2 week-long online institute courses via Zoom. Would I do it this way again? Sign me up!!
I taught four sessions and helped answer questions during the week in Cari Taplin's Genealogical Research Institute of Pittsburgh's course Following Your Ancestors in Time and Place.
This past week the course I coordinate, Digging Deeper: Records, Tools, and Skills, took place online. I had a few reservations about the effectiveness of a few portions of the hands-on work. Those reservations are long gone. From day 1, it went well. The tech people, the GRIP directors, the  other instructors, and the students rose to the occasion and went far beyond my dreams. When the course week ended yesterday, my adrenaline rush took several hours to come down. I enjoyed the week, the teaching, the interaction, and the way everyone worked together. I thought you might like to see the class photo that includes the instructors, one of the directors, and most of the students.
THANK YOU ALL!
p.s. Yes, my course will be offered again — see you next June. The list of courses for GRIP 2021 is already available here. I will also be teaching in Cari Taplin's Great Lakes research course.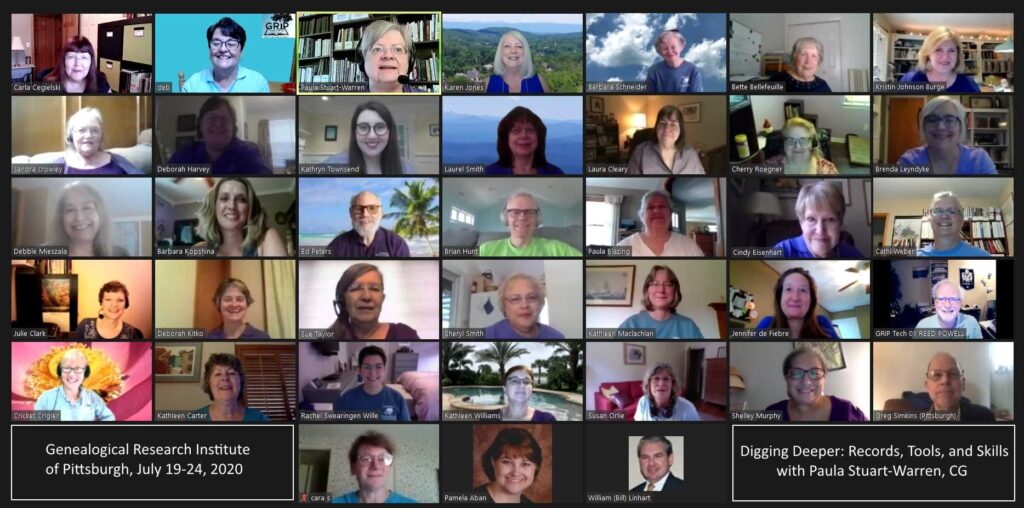 © 2020, Paula Stuart-Warren. All rights reserved.
Please follow and like us: