One of my favorite periodicals is no longer being published and I am thankful I did subscribe for many years. It's still in my mind a lot and I do read it in print and online. The articles provide much background for historical and genealogical research. They lead me to understand some federal records in a different way and lead me to new source material.
The articles were written a decade or decades ago, but still stand the test of time. Some or all the records discussed may be better indexed, digitized online, and especially updated by other articles and lectures that are more current. Check Ancestry.com, FamilySearch.org, and other sites for some of these records and indexes today.
What is this periodical? It's Prologue, a magazine published quarterly by the United States National Archives and Records Administration (NARA). Sadly, the last issue was the Winter 2017-2018 issue, Volume 49, Number 4. The first issue was in the Spring of 1969. That's 49 years of the story of records at the various NARA facilities and some Presidential Libraries. The articles and editorials are written by people on the NARA staff, other government agencies, and some other experienced researchers.
Accessing the publication today.
Many articles and issues from over the years are now free and available on the NARA website. https://www.archives.gov/publications/prologue
Volumes 1-48 are free on HathiTrust Digital Library. https://catalog.hathitrust.org/Record/000640375
Many issues are on Internet Archive https://archive.org/
On the shelves at libraries, archives, and historical societies.
A handful of my favorite articles are listed below along with the URL for viewing them online.
More found on the NARA website, https://www.archives.gov/
Cyndi Ingle who compiles the extensive https://www.cyndislist.com/ has a link to Prologue on the National Archives website under her U.S. National Archives category and directly to many of the specific articles under her a various subject and place categories.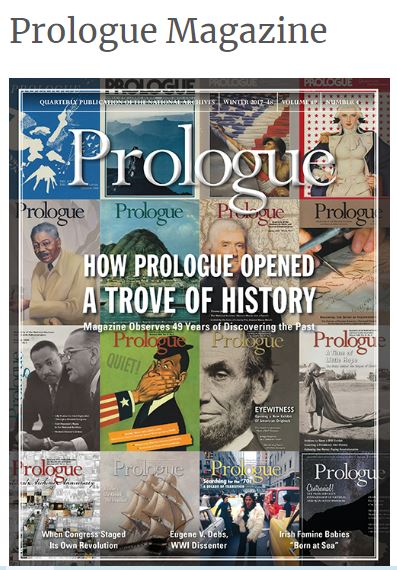 © 2023, Paula Stuart-Warren. All rights reserved.
Please follow and like us: