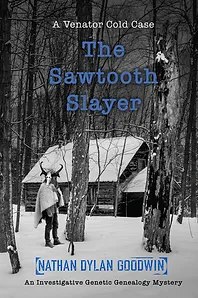 Nathan Dylan Goodwin's 2022 second book in the Venator Cold Case series is a winner. A fictional novel with mystery, genealogy, and genetics. Did it hold my interest? You bet it did! The author is based in England but did an amazing job with this story based in the U.S. I was provided with a copy of the book for this review. 
It covers a series of murders that have a pattern in which the deceased women are found near churches, but the locations are where they were killed. Detectives, a forensic pathologist, and a coroner join forces to assess the situations, take DNA samples, compare the injuries on the victims, and figure out a connection to some foliage found at the latest victim's strange placement. I could explain that better, but I won't give away some of the details that are followed through by the experts in the case. Oh, the Pandemic that began in 2020 also played a part in what developed.
The lead detective, Maria Gonzalez, works with an investigative genetic genealogy company to sort out
© 2023, Paula Stuart-Warren. All rights reserved.
Please follow and like us: