This will not be an easy project and I am sure that is already evident to those involved. Some who will be working on this were the students themselves or had older family members who attended these schools.
The reading of the painful comments of boarding and day school superintendents, teachers, and others about the children forced to attend these schools is not a nice experience. For about a ten-year span of time, I read much of the correspondence between the schools, parents, and the Bureau of Indian Affairs for several schools. It caused many tears. I still do some research in the records of a couple schools and in some cases, the records no longer exist. I'd be willing to bet that is not always because of a fire, flood, tornado, or other calamity. While some records have been digitized by the U.S. National Archives (NARA) and some genealogy website partners, it does not include the many folders of correspondence. Neither are the records that do exist found in one repository or in one location of NARA.
A press release tells more about this preservation project.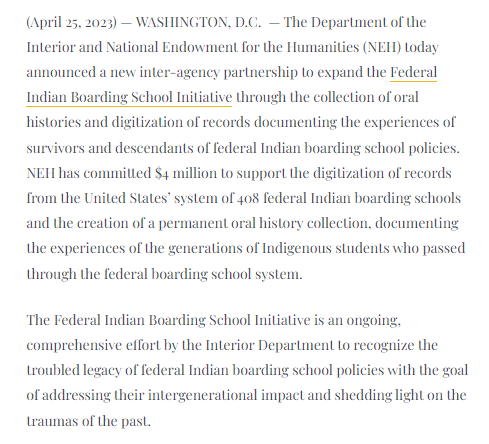 For more on this project https://www.neh.gov/news/doi-neh-partner-preserve-federal-indian-boarding-school-oral-history-and-records
© 2023, Paula Stuart-Warren. All rights reserved.
Please follow and like us: