The media has been reporting about the change in Minnesota about adoptees being able to obtain their original birth certificate (OBC) starting in July of 2024. I wanted a few more details and some official words from the Minnesota Department of Health (MDH) before I started writing about it. The MDH website page about the change was updated on August 2, but I didn't have the opportunity to investigate further until this past weekend.
A small portion of that page is below. Be sure to read the entire page for more details to understand more aspects regarding the access to OBCs and some possible restrictions. It's agoing to be a time of mixed emotions for many people. https://www.health.state.mn.us/people/vitalrecords/adoption.html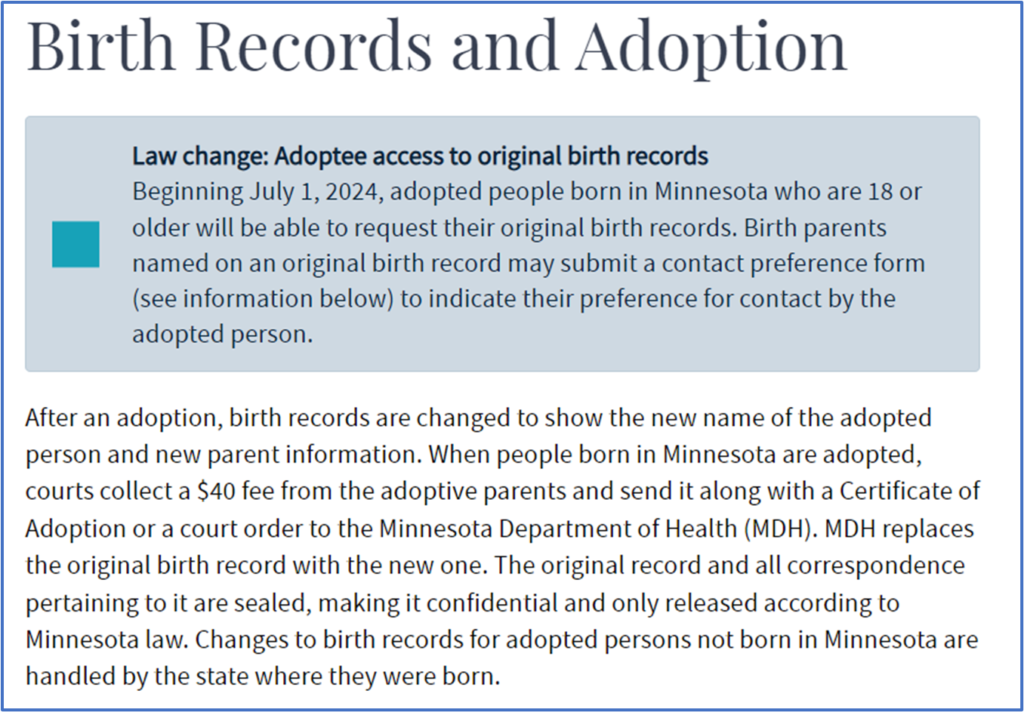 Minnesota Public Radio has some background info and a few interviews about the change and the impact of it. https://www.mprnews.org/episode/2023/08/07/adoptee-reflects-on-minnesotas-new-adoption-policy-opening-decades-of-family-secrets
I am no longer involved in adoption searches. The emotional stress was too much for me and even more so for the parties involved. There are competent researchers involved in this work. For example, check the Board for Certification of Genealogists https://bcgcertification.org/ and the Association of Professional Genealogists https://www.apgen.org/cpages/home professional directories for assistance.
My feelings on this? It's about time. Apparently, Minnesota is only the 15th state to provide such access.


© 2023, Paula Stuart-Warren. All rights reserved.
Please follow and like us: