Take your genealogy skills to the next level with this FREE online genealogy conference, held each Friday in September: 25 live webinars in all. Join live for all five Fridays or just one, and if you can't, Legacy Family Tree Webinars has you covered! Enjoy the recordings at your convenience — they'll be free to view through the end of the month.
I am doing a new presentation, "So You Think You Know all About City Directories?" on Friday, September 15th at 10:30 a.m. CDT (That's 11:30 EDT, 9:30 MDT, and 8:30 PDT.) My emphasis is on U.S. city directories and I hope you will learn things to take away some ideas you think about city directories and some overly generalized information you may have learned over the years. These directories have been vital in my family research.
To learn more about this webinar and to register for this one via my affiliate link: http://legacy.familytreewebinars.com/?aid=8641
View the list of all the liveWebtember classes. http://legacy.familytreewebinars.com/?aid=8037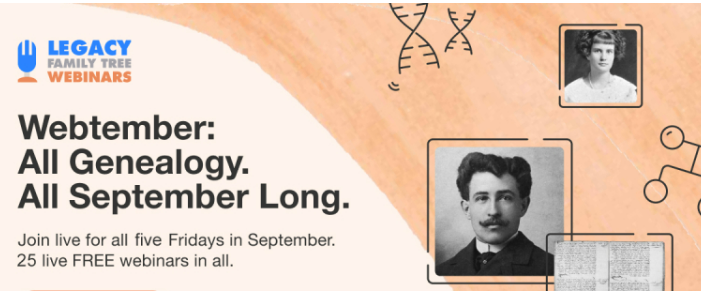 © 2023, Paula Stuart-Warren. All rights reserved.
Please follow and like us: