The value of rechecking websites you have visited before has proven quite valuable to me in recent months. I visited Roselawn Cemetery here in Roseville, Minnesota back in the 1980s after learning that my paternal Stuart great grandparents were buried there. I have written and lectured before at the surprise that was there. Alexander and Emma (Slaker) Stuart are buried with no headstones. The surprise is because Alex's occupation in Minnesota, Kansas, Illinois, and Wisconsin was that of a tombstone carver. A distant cousin told me he did exquisite work. On that visit I never asked who owned the burial plots because silly me just assumed that the husband owned them.
My late night rechecking of cemetery websites to see what is new brought me to a burial index on the Roselawn website. I did a search for Stuart and found this: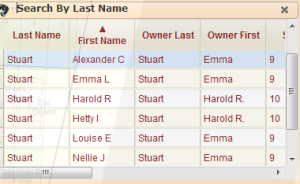 Then I clicked and found this wonderful map showing the burials.The pink rectangles are the burials of Alex and Emma and their two adult unmarried daughters, Nellie and Louise. Imagine my surprise to see the names to the left of Louise. That is their another daughter, Florence, and her husband James A. Gordon. Checking them in the index I found that Emma owned their burial plots, too. Alexander had abandoned his family for many years. Family story has it that Emma was not easy to live with. Whatever the reason, Emma apparently was in charge of the finances. Now, where on earth did this woman get the money to purchase these spaces? Research finds always lead to more questions.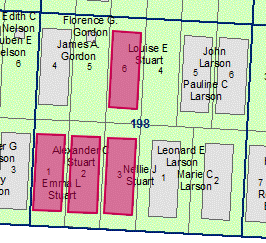 The Harold and Hetty Stuart listed in the database are the son and daughter-in-law of Alex and Emma. Visit the Roselawn online records search here. http://www.roselawncemetery.com/
© 2013 – 2014, Paula Stuart-Warren. All rights reserved.
Please follow and like us: