My lunch break today was accompanied by an informative online presentation about the U.S. National Archives location at St. Louis and the disastrous 1973 fire that destroyed many records. It was a helpful presentation. I have attended presentations and read articles about the fire, but this one seemed to hit me more today. This summer marks 50 years since that awful fire. My Dad was in the Army Air Corps in WWII as a flight engineer. I need to obtain his records that still exist and those they can recreate. I will also send in the stories he told me about his service, wartime illness, hospitalization on a British ship, meeting Bob Hope during that hospitalization, and a few other tidbits. His timeline could help the archivist with the search for records.
Watch today's presentation at any time on YouTube or check the presentations slides on the NARA website. The was no handout for the session. The URLs for viewing are below.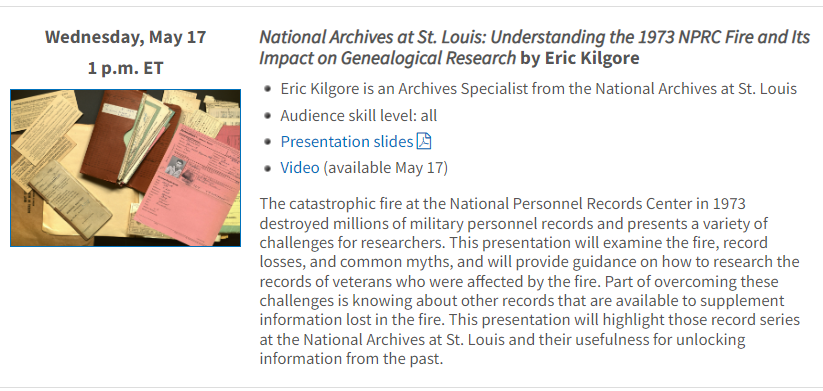 Learn more about the series: https://www.archives.gov/calendar/genealogy-series/2023
View the National Archives YouTube channel: https://www.youtube.com/@USNationalArchives
© 2023, Paula Stuart-Warren. All rights reserved.
Please follow and like us: