Today's Press Release is of great interest! Cyndi Ingle has been a long-time friend, both personally and genealogically. IGHR is a long-standing and well-known institute. I attended the excellent virtual course on New York research this past July. The details from the Georgia Genealogical Society:
I am delighted to share with you that Cyndi Ingle has been appointed as the Executive Director of the Institute of Genealogy and Historical Research (IGHR). As an internationally known genealogy educator and innovator, she is well positioned to lead the Georgia Genealogical Society's IGHR into the future of genealogy education. She will have the full support of GGS leadership as she does so.
Cyndi Ingle really needs no introduction, but for those of you not familiar with her work over her 40-year genealogy career, please see below.
IGHR 2023 was a great success, and I thank the volunteers who made it so, particularly the Advisory Council, the Course Coordinators, the faculty and staff, the Steering Committee volunteers, and the members of the IGHR 2023 Executive Committee, Lisa Delgado, Cynthia Harrison, and Karen Molohon, for their dedicated and selfless service.
We look forward to welcoming you (and your friends) to IGHR 2024, which will be held virtually the week of 21-26 July, 2024. The course list will be announced later in the fall, and registration will begin in the spring. If you have feedback or suggestions for GGS or IGHR, please email me at president@gagensociety.org.
Let us all give Cyndi a warm welcome!
Madelyn Nix
GGS President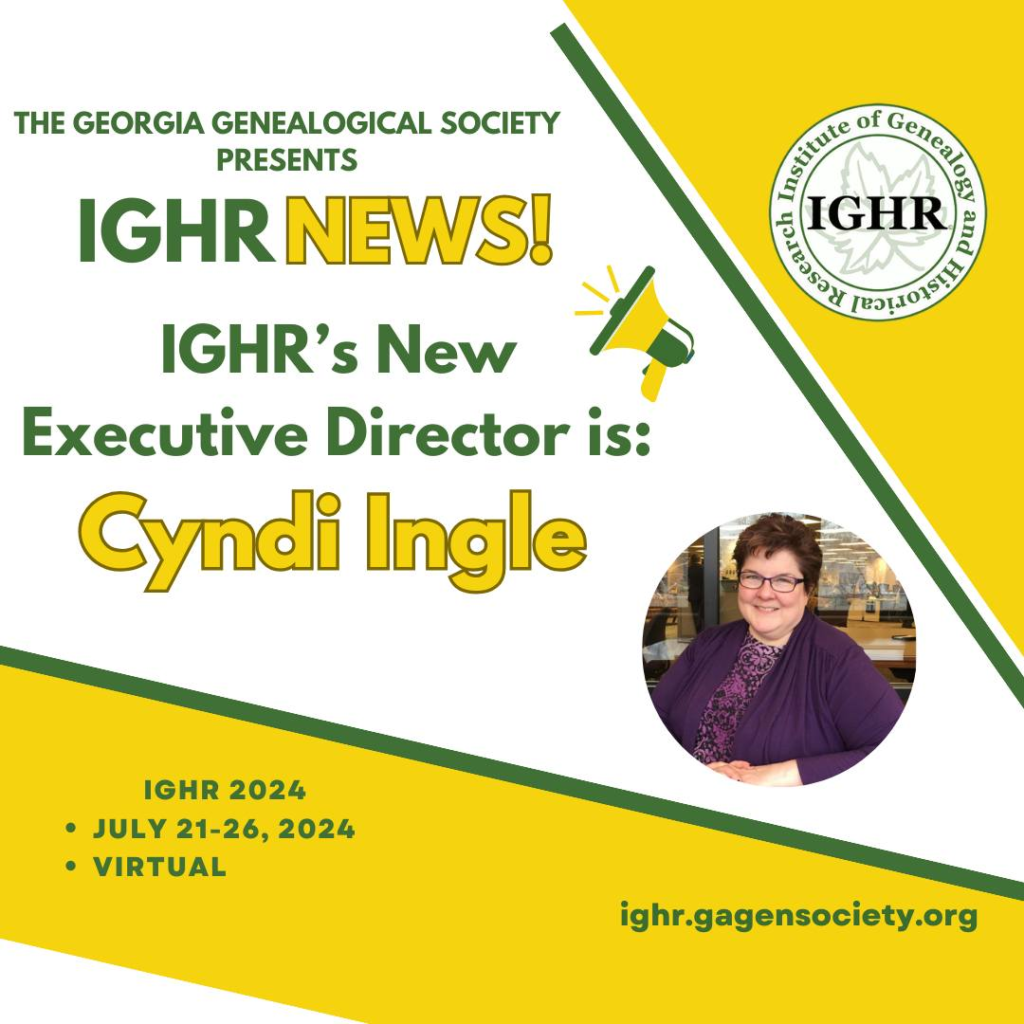 Cyndi Ingle created the award-winning and globally recognized CyndisList.com, a free categorized list of more than 320,000 online resources for genealogical research. She is an internationally-known guest lecturer for genealogical society meetings, conferences, seminars, institutes, webinars, and study groups.
Cyndi is a past member of the board of directors for the National Genealogical Society and has also served in several capacities for local, national, and professional genealogical organizations.

Her particular interest is combining traditional methodology with organization, computers, software, and the Internet. She is one of the co-creators and admins for the popular Facebook genealogy group, The Genealogy Squad. Cyndi, currently a columnist for the Association of Professional Genealogists Quarterly (APGQ), has authored numerous articles for genealogical publications and three books. She coordinated courses for the Genealogical Institute of Pittsburgh (GRIP) and the Salt Lake Institute of Genealogy (SLIG). She has attended dozens of conferences and institutes including the Institute of Genealogy and Historical Research (IGHR), the Salt Lake Institute of Genealogy (SLIG), the Genealogical Institute of Pittsburgh (GRIP), and the National Institute on Genealogical Research (now Gen-Fed).

For more about IGHR https://ighr.gagensociety.org/
© 2023, Paula Stuart-Warren. All rights reserved.
Please follow and like us: